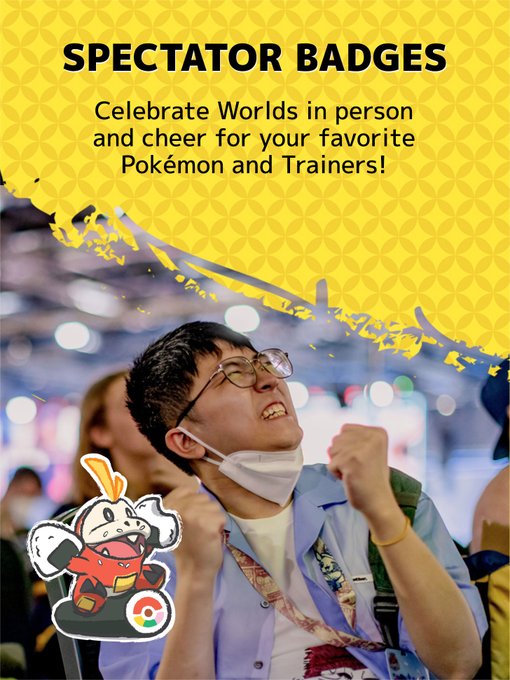 Image Source: Official Twitter Account of Play Pokemon
Pokemon officially announced their lottery system for the Spectator Badges for the 2023 World Championships. This system will be quite similar to the lottery system used in Japan where you will submit your interest first until a set time and then you will officially be announced whether you get the slot or not. As for the Spectator Badge, the Interest List signup will last until 11:59 pm PDT on June 7, 2023, and you can check it right away on the RK9Labs website.
If you guys managed to get the slot, you will be contacted via your RK9 profile email and you need to use the same RK9 account to register for your Spectator Badge in 72 hours. The Spectator Badge itself will cost you ¥2000 and a maximum of 2 (two) Spectator Badges may be purchased per account. However, if you are a competitor, you will get 2 Spectator Badges in addition to your competitor badge.
For you guys who don't know, the 2023 World Championships will be held on August 11-13, 2023, in Yokohama, Japan. This event will be the culmination of the 2023 season where people from around the world will compete to become the number one Pokemon Trainer. There are several competitions in the 2023 World Championships such as Pokemon GO, Pokemon TCG, Pokemon Video Games, and Pokemon UNITE.
You can visit the RK9 official website if you are interested in signing up for the lottery of the Spectator Badge here:
Spectator Request Details - RK9 Labs
Also see the official website for the 2023 World Championships here:
Pokémon World Championships 2023 Official Website
Life is too short to be anything but happy! - Arelios