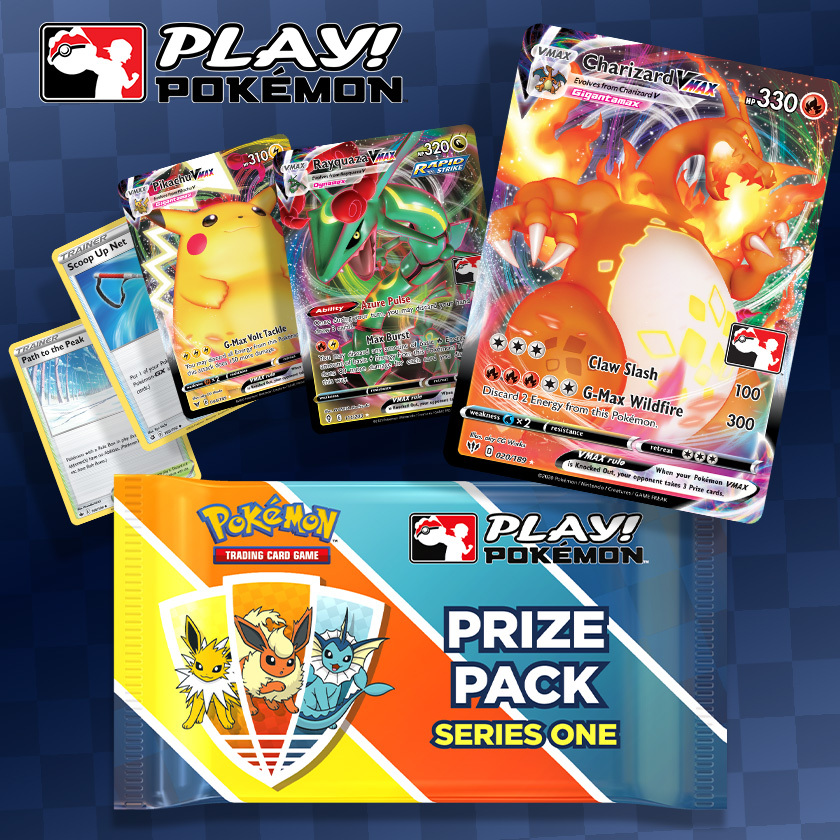 Play! Pokémon officially revealed their new Prize Packs as part of the return of in-store events. These packs will be available worldwide on Qualified Play! Pokémon retailers to support in-store Play! Pokémon events include Leagues, League Challenges, League Cups, and more while supplies last.
Each Prize Pack comprises six cards chosen from a pool of over 200 cards, all of which are legal in the Standard format, ranging from popular Pokémon to exclusive foil upgrades of tournament staples, all of which have the special Play! Pokémon logo. As for the content, Play! Pokemon reveal us a little bit about what we will get in these packs:
Fan-favourite Pokémon like Charizard VMAX, Rayquaza VMAX, and Pikachu VMAX

Exclusive foil versions of tournament-defining cards like Scoop Up Net and Path to the Peak

Exclusive non-foil versions of powerhouse Pokémon like Oranguru and Snorlax

Both foil and non-foil basic Energy cards
These packs will come in series where the first series will have a limited duration of around 3-4 months until February 2023. Then, you can expect the next series to come in every 6 months, for example, Series Two in February 2023, Series Three in August 2023, Series Four in February 2024, and so on.
Please note that the Prize Packs distribution will vary from location to location, depending on what works best for your store.
For more information you can check here:
---
What do you guys think of this pack? I think this is a great product to get because we also get to participate in our local store tournament. This means that we can also support our local store so that they can host an even bigger tournament in the future (and bigger prizes).
Comment down below to share your thoughts!
Life is too short to be anything but happy! - Arelios
News Source: Official Website of Pokemon (pokemon.com)