Pokemon Card Game Japan just revealed Lucario Special Art Rare from the upcoming VSTAR Universe set. This set will be released on December 2, 2022, at the price of 550 yen per booster pack. This set will introduce 2 new rarities which are Art Rare (AR) and Special Art Rare (SAR). These rarities are quite similar to Character Rare and Character Super Rare with the exclusion of the Trainer itself.
Here is the image for Lucario VSTAR SAR:
---
Lucario VSTAR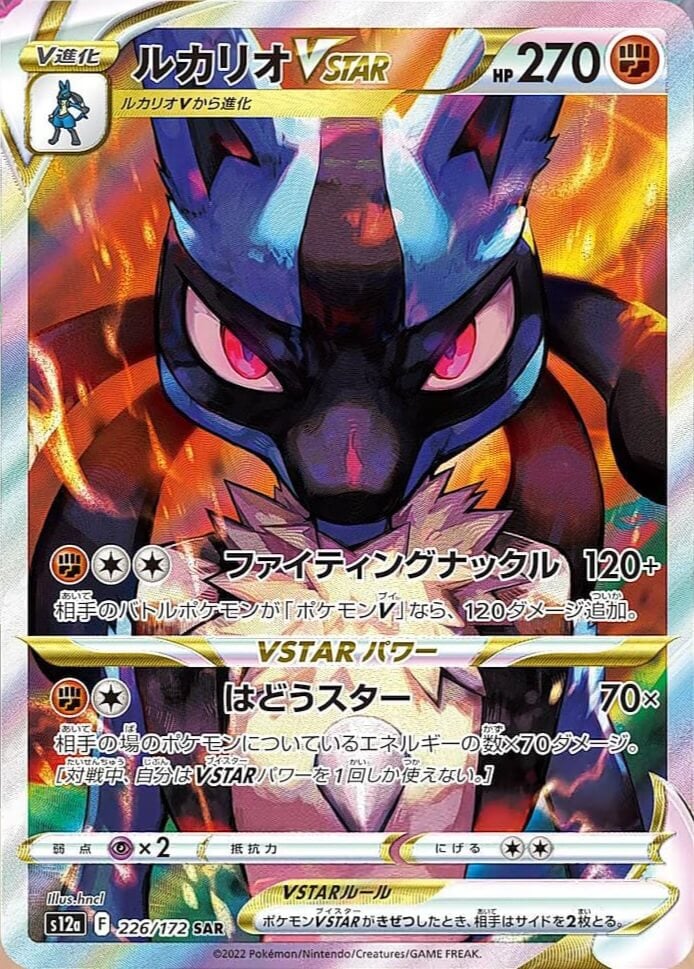 PCC - Fighting Knuckle 120+
If your opponent's Active Pokémon is a Pokémon V, this attack does 120 more damage.
[VSTAR Power] PC - Aura Star 70x
This attack does 70 damage for each Energy attached to all of your opponent's Pokémon. (You can't use more than 1 VSTAR Power in a game.)
---
What do you guys think of these cards? I'm definitely looking for this set and I just hope that the Scarlet & Violet era brings more hype for the TCG community. Because I just can't think of any better art when we go into the Scarlet and Violet era, especially the full art cards.
Want to see more VSTAR Universe cards? Check here:
Comment down below to share your thoughts!
Life is too short to be anything but happy! - Arelios
News Source: Official Youtube of Pokemon Card Game Japan