Lady from the upcoming S11 'Lost Abyss' set has been revealed by Pokemon Card Game Japan. On July 15, 2022, this set will be available for purchase for 165 JPY per booster pack (tax included). The Lost Zone mechanic will be reintroduced in this set, and the cards that belong to it will have a slightly altered look (have extra graphics).
The set will have over 100 cards before SR, HR, UR, etc.
The new cards translation can be found here:
If you are on a PC, you can try to Right-Click the Image and choose 'Open Image in New Tab' for the bigger picture.
If you are on Smartphone, you can hold the picture and choose 'Preview Picture'
---
Lady
Supporter
Search your deck for up to 4 basic Energy cards, reveal them, and put them into your hand. Then, shuffle your deck.
---
Pokemon Card Game Taiwan also revealed Amoongus and Wailord line as part of the upcoming S11 'Lost Abyss' set. The set will be released in Taiwan on July 29, 2022.
---
Amoongus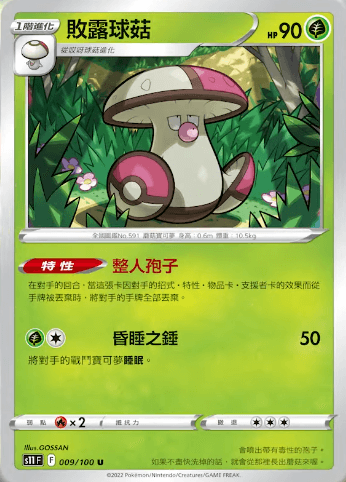 Ability - Full Bubble
If this card is discarded from your hand by an effect of your opponent's attack, Item, or Supporter during your opponent's turn, discard your opponent's hand.
GC - Soothing Scent 50
Your opponent's Active Pokémon is now Asleep.
---
Foongus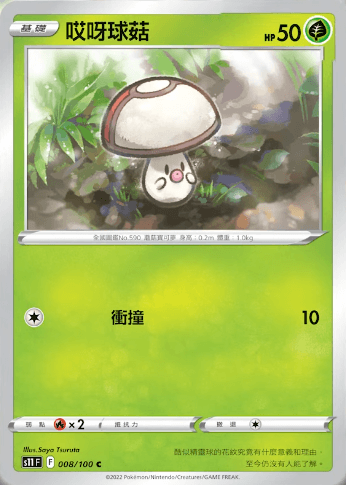 C - Ram 10
---
Wailord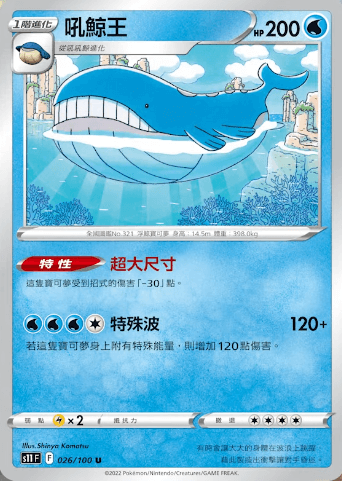 Ability - Oversized
This Pokémon takes 30 less damage from attacks.
WWWC - Special Wave 120+
If this Pokémon has a Special Energy attached, this attack does 120 more damage.
---
Wailmer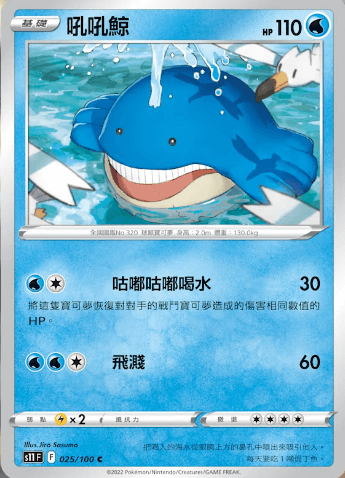 WC - 30
Heal from this Pokémon the same amount of damage you did to your opponent's Active Pokémon.
WWC - Splash 60
---
See the other revealed S11 Lost Abyss card here:
What do you guys think? Don't forget to comment down below!
Life is too short to be anything but happy! - Arelios
News Source:
Official YouTube Channel of Pokemon Card Game Japan (【公式】ポケモンカードチャンネル)

Official YouTube Channel of Pokemon Card Game Taiwan (寶可夢卡牌遊戲 台灣)