Pokemon Japan finally revealed the promo card of Pikachu where you can get this card when preordering the physical version of Pokemon Scarlet and/or Pokemon Violet. In the card itself, you will have 3 Paldean starters, Spriatito, Fuecoco, and Quaxly.
However, please note that the colour and design may differ from the actual card. The card itself may also be included in other Pokemon card game-related products or given as gifts in other campaigns, just like other promo cards.
Here is the newly revealed Pikachu promo card:
---
Pikachu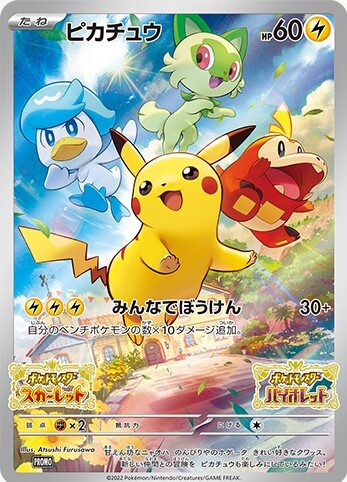 LLL - Adventure Together 30+
This attack does 10 more damage for each of your Benched Pokémon.
---
What do you guys think of this card? I think this card will be highly sought after because this is the first non-rule box card in the Scarlet and Violet era. The card is also limited in quantity which means it will be even harder to get in the future.
Comment down below to share your thoughts!
Life is too short to be anything but happy! - Arelios
News Source: Official Website of Pokemon Japan (pokemon.co.jp)