Image Source: Official Twitter Account of Playthechampionships (@PlayTheChamps)
The 2023 Regional Liverpool has just concluded, and nearly all of the top competitors were presenting their decklists that they used to compete in the event. As you may be aware, this event took place in Liverpool, UK, on January 21-22, 2023.

Here is the deck spread for the Top 16: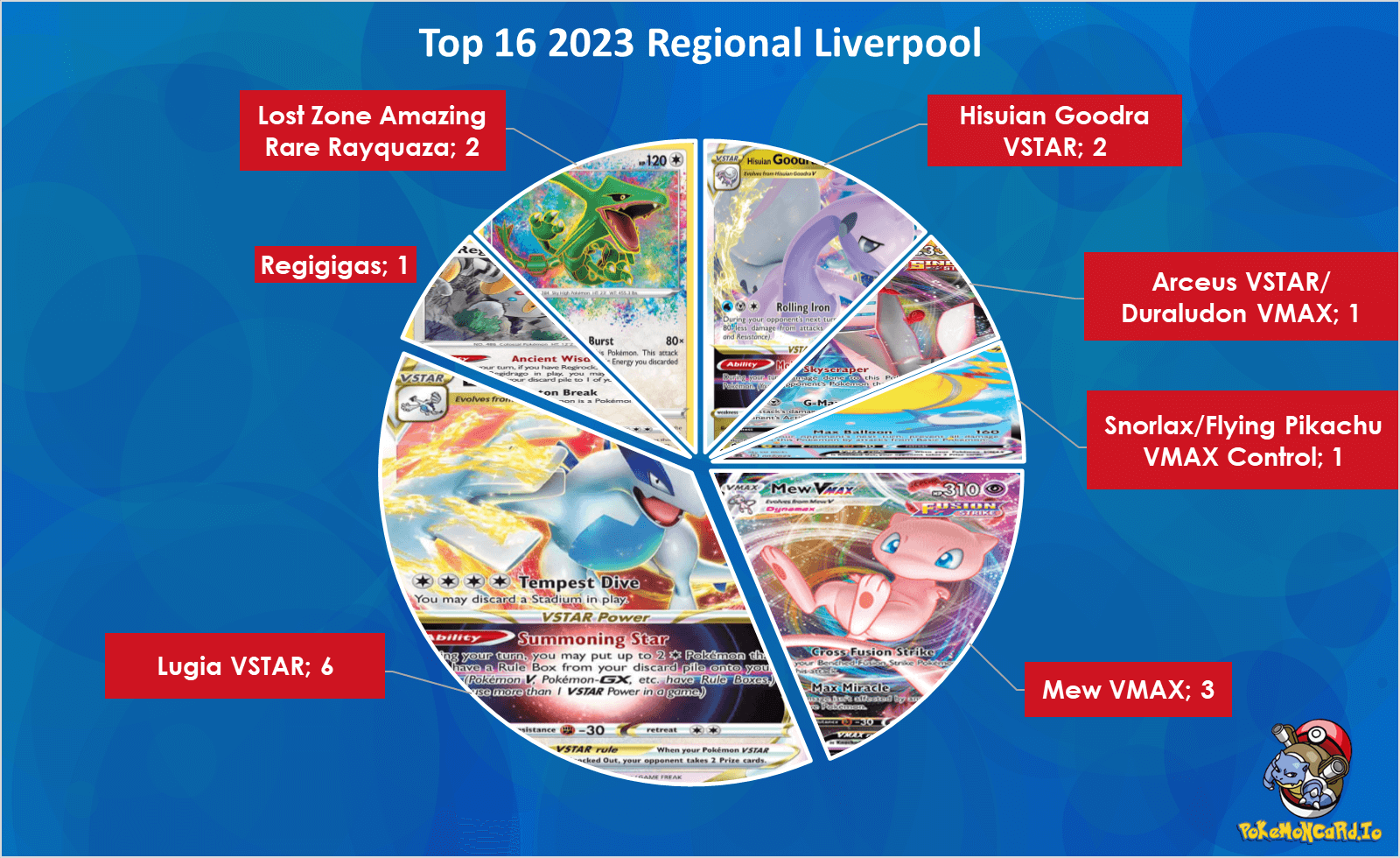 Here is the list for the top 16 of 2023 Regional Liverpool:
Thanks to Tablemon for the Top 8 decklists!
---
CHAMPION
Mew VMAX
Leon Kesselring (@ender_leon67)
---
RUNNER UP
Hisuian Goodra VSTAR
Stéphane Ivanoff (@lubyllule)
---
TOP 4
---
Lost Zone Amazing Rare Rayquaza
Mikey Block (@MikeyPTCG)
---
Lugia VSTAR
Raz Wolpe (@dingolavista)
---
TOP 8
---
Lugia VSTAR
Kim Pobega (@FreeKim23)
---
Mew VMAX
Ryan Moorhouse (@TeamCakeTCG)
---
Hisuian Goodra VSTAR
Vinnie Schelfhaut (@Vinnehboom7)
---
Snorlax/Flying Pikachu VMAX/Yveltal Control
Sander Wojcik (@SanderWojcik)
---
TOP 16
---
Lugia VSTAR
Ethan Chew
---
Lost Zone Amazing Rare Rayquaza
Brennan Kamerman (@Kelthrag)
---
Lugia VSTAR
Mathieu Vidal
---
Lugia VSTAR
Demetris Eaton (@DemiPTCG)
---
Arceus VSTAR/Duraludon VMAX
Oscar Rivas (@RivasTCG)
---
Mew VMAX
Luca Miele
---
Lugia VSTAR/Flying Pikachu VMAX
Steffen From
---
Regigigas
Rahul Reddy (@thefleeee)
---
Mew VMAX is just too good at this point because of how powerful their engine is. We also get a surprise in this tournament where 2 Hisuian Goodra VSTAR decks manage to get to the Top 8! It proves that the deck is viable even though we get so many new Pokemon. Then, we also get to see that Lugia VSTAR is still holding quite strongly by managing to get several places in the Top 16. Let's hope in the next tournament we get more surprises!
What do you guys think? Don't forget to comment down below!
Life is too short to be anything but happy! - Arelios
Source:
Respective Player's Twitter Account

Limitless